The Ultimate Guide to Corbels and How to Use Them
As an architectural element, corbels offer a mixture of decorative or functional purposes. But if you're wondering what are corbels, we're going to take an in-depth look at the world of these ancient but still very practical and useful decorative supports.
From the definition of a corbel, and their use throughout history; to modern decorative uses including fireplace mantels and the wide use of interior corbels, we'll explain everything you might need to know.
What are corbels?
Corbels are triangular brackets – often decorative – that project out from a vertical surface and support a structure above them, such as a beam, arch, shelf, or overhang.
These delightful features can be made from a variety of materials including wood, stone, metal, plaster and other synthetic materials, and are widely used in modern construction design.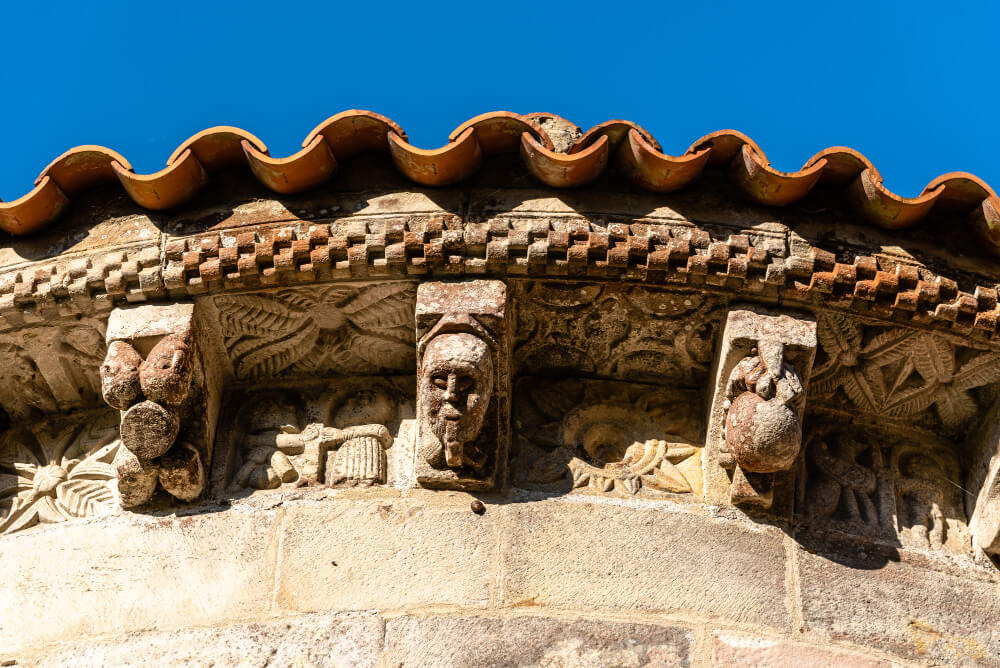 The word corbel has it's origins in the French word, corbeau, or crow.
Trends in interior design continuously evolve but it looks like the humble corbel is here to stay. They serve an important functional purpose for architects, bar fitters, shop fitters, builders and DIY homeowners alike. These timeless features have adapted and developed along with different architectural movements throughout history to the present day.
A brief history of corbels
Corbels are a feature of classical architecture and have been used for thousands of years. The earliest known examples date back to ancient Egypt, where they were used to support roofs and other architectural elements.
Perhaps the best known application of corbels and decorative supports are in Greek and Roman architecture. A wander through the ancient ruins of the Roman Forum or Greek amphitheatres will feature countless different types of stone corbels, showcasing everything from plain supports through to classical acanthus leaves or figures of Gods.
In the Middle Ages, corbels were a common feature in Gothic architecture, used to support the weight of vaults and arches. They were often decorated with intricate carvings, depicting religious figures or mythical creatures. They were also widely used in the architecture of the Renaissance, and in the Baroque and Rococo periods that followed.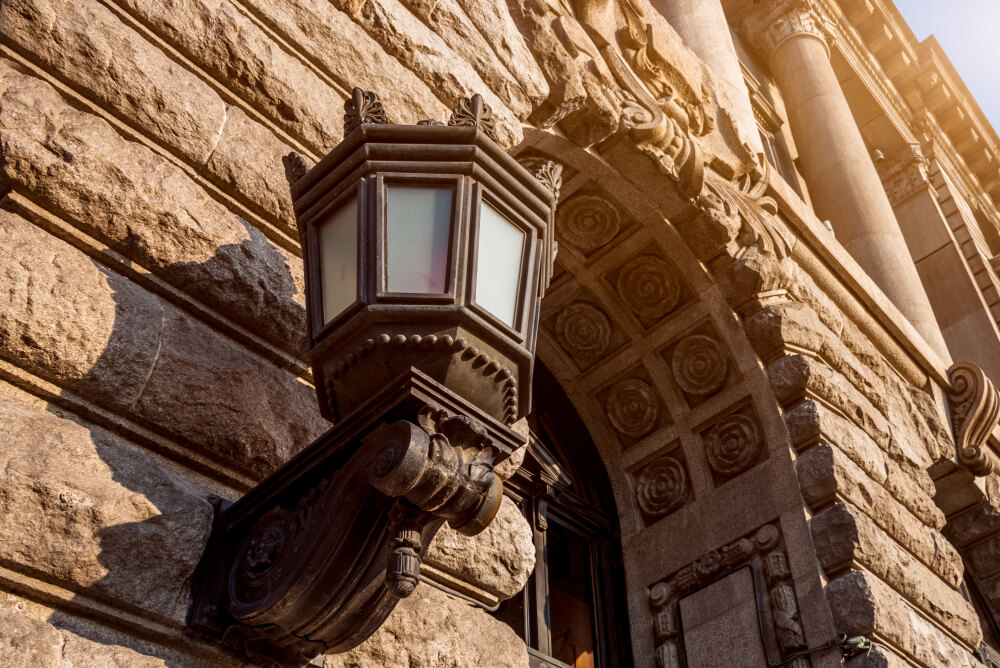 A typical example of these is the decorative supports jutting out on countless French cathedrals, including Notre Dame, or in cities such as Prague or Vienna.
It's also common to spot decorative corbels being used to support balconies, statues or other eye catching features.
During the Victorian era, corbels became popular in the form of brackets, used to support eaves and other architectural elements, and create a sense of grandeur and ornamentation.
You will often spot corbels both inside and outside Victorian era homes in the UK. The most common use today is the application of wooden corbels for fireplaces, or as a feature in a kitchen or bar.
What are corbels used for?
There are many uses for both decorative and functional corbels in home decor and modern architecture.
Architectural corbels serve as structural support as well as decorative embellishments. Cantilever corbels can be anchored into walls to provide load bearing. They are also used to create overhangs, which can add visual interest to a building and create space for porches, balconies, and other features.
You will also often spot corbels framing doorways in both old and modern homes.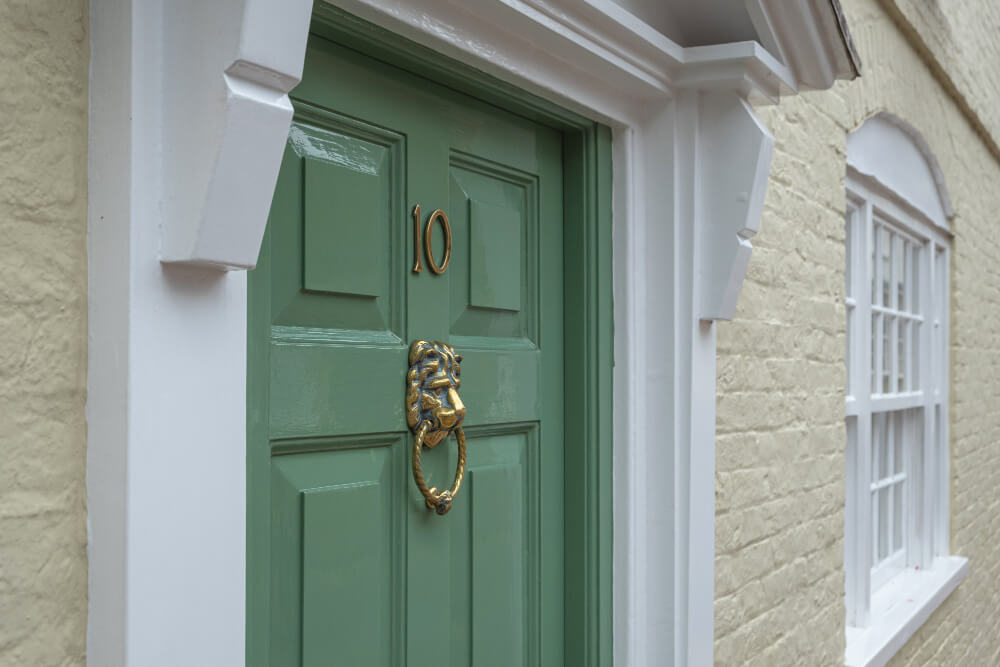 Decorative corbels can be used to add interest and ornamentation to design which in turn can add value to a property or a piece of furniture. Some styles feature intricate, ornate designs whilst others are more modestly stylish with simpler lines.
Whatever project you're doing there will be a corbel design to suit your needs, check out our list of ideas and common uses for inspiration:
Supporting countertops, bar tops, shelving
To support fireplace mantels
Supporting structural beams
Framing doorways and entranceways (in both an exterior and interior wall)
Support of archways, balconies, domes, ceilings and staircases
Pilaster capitals (on top of pillars or columns)
Stove hood decoration
Furniture decoration
What different types of corbel are available?
There are a multitude of corbel varieties:
Classical corbels – often featuring a classical design, these are used to add distinctive details to exteriors, interiors or furniture
Bracket corbels – a simple support that can be thin and very deep or shallow and wide depending upon the application and the material used
Console – s-shaped corbels that are used to support an arch or a projecting element such as a mantelpiece. They are often used in Gothic and Renaissance architecture
Scroll – these feature a raised scroll projection which provides the basis of support
Modern – with a more contemporary aesthetic these are used in modern architecture and interior design. They are often used to support shelves, countertops, and other architectural elements
How big are corbels?
Unsurprisingly, corbels come in an huge range of shapes and sizes. So how can you choose the right size corbel for your next project?
If the corbels are supporting a countertop or large overhang, the rule of thumb is that they should be at least half the depth of the overhang. You may want to search for large or extra large architectural corbels, archway brackets, soffit, bar or kitchen corbels.
If you're creating shelving support or fireplace mantels it's best to use corbels ⅔ depth of the overhang.  This is because they will be the main support system for the weight of the mantle and anything placed onto it. Try searching for counter top detail corbels, medium corbels, mini brackets.
For structural beams or pilasters, match the corbel width to to width of the beam or pilaster. Look for extra large architectural corbels, archway brackets, soffit corbels, bar façade pilaster corbels.
Or, you may simply want to use corbels as a beautiful design feature with or without structural function. Try looking at mini bracket onlays, kitchen corbels, bar façade pilaster corbels, stove hood corbels.
Check out our website for our full range of corbel sizes and styles to suite your every need.
What are the benefits of using corbels?
There are many benefits of using corbels including:
Structural support for architectural elements
Upstyling tired old interiors
Adding ambience to an interior space
Stamping your own unique flair into kitchen and bedroom design
Increasing energy efficiency of buildings
Ability to create overhangs and cantilevers
Added weight bearing capacity for a structure
Creating a sense of prestige and ornamentation
Adding value to a property or piece of furniture
They can be used in combination with other decorative elements
Energy efficiency with corbels
You can improve the energy efficiency of buildings using corbels to create both overhangs (for shading), and additional insulation through false ceiling support.
Overhangs are particularly effective in hotter climates and during summer, when the heat and rays of the sun hits buildings at a steep angle. Overhangs cast shade onto windows, reducing the amount of solar heat that enters a building. This in turn reduces the load on air conditioning systems, reducing energy consumption and costs.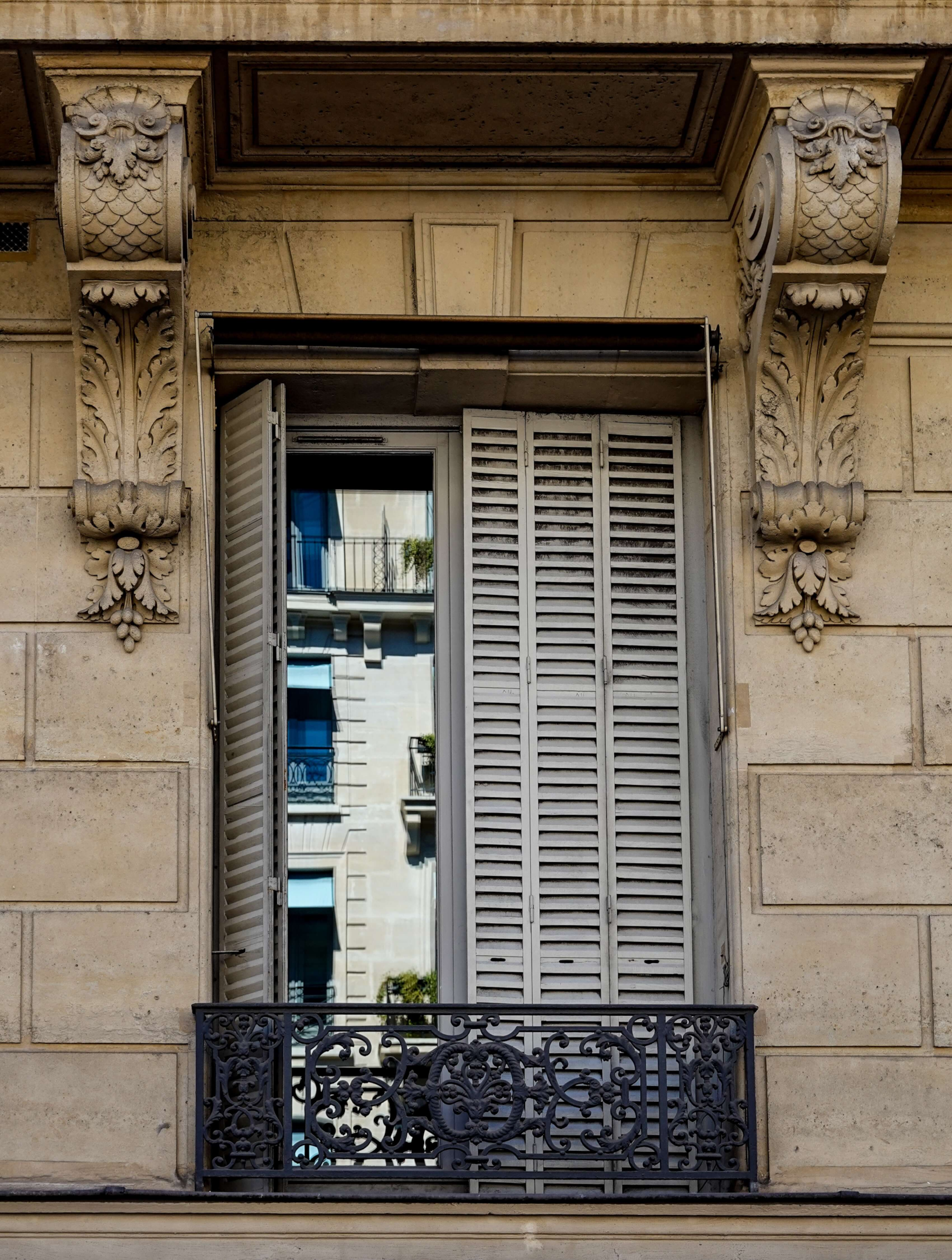 In cold buildings with high ceilings, 'false ceilings' can be installed using corbels as additional support. Creating a new, lower ceiling means additional insulation can be installed reducing the amount of energy needed to heat the room space.
Adding value to your property with corbels
There are a multitude of ways that corbels can add value to property and furniture:
Aesthetic appeal – corbels can be decorated with intricate carvings, sculptures, and other decorative elements, which can increase the value of a building or property, and they are often used to create overhangs, balconies, and other features that add visual interest and curb appeal.
Structural support – corbels provide structural support for architectural elements such as beams, arches, and overhangs, which helps to ensure the safety and stability of the building.
Energy efficiency – corbels can have a positive impact on energy efficiency by providing shading and insulation, which can reduce cooling and heating loads, and decrease energy consumption and costs.
Historical significance – in older buildings, corbels can be an important element in preserving the historical character and integrity of the property. Corbel restoration or replacement can be a vital part of maintaining important heritage sites.
Browse the Wild Goose Carvings website for inspiration on how to add value to your property with corbels.
How are corbels made?
Corbels can be made using  wood, stone, metal, plaster and a wide variety of synthetic materials. The method of making corbels depends on the type of material being used.
Wood Corbels – normally made from solid wood, they can be made by hand using traditional carpentry techniques such as shaping with a band saw. Additional decorative detail can be added by carving with a hammer and chisel. Alternatively, they can be mass-produced using CNC machinery or copy router techniques.
Masonry Corbels – often made from granite, limestone, or sandstone. Historically they would have been made by hand using a hammer and chisel but can be produced by industrial stone cutting machinery.
Metal Brackets – materials like steel, aluminium or wrought iron are commonly used in conjunction with metalworking techniques such as forging, welding and bending into shape with a press.
Plaster and Cast Iron Corbels – can be fabricated quickly and repeatedly from a mould making mass production fast and cost effective. Plaster is an inexpensive material and blends with an interior finish of plaster ceilings and walls. Iron has the further advantage of its enormous strength, and can be cast as part of a pillar or welded to a steel frame.
Resin, fibreglass Styrofoam and wood composite Corbel Brackets – lend themselves to being machine moulded with a surface decoration that can be very cost effective for budget interior décor. Wood composite corbels can be machine stamped with detailed decoration.
Regardless of the material, corbels are typically made by creating a template or mould of the desired shape, then using that template to create the final product, whether it's by hand or machine.
Which corbel should I use?
When choosing a corbel, there are several factors to consider:
Material – corbels can be made from a variety of materials including wood, stone, metal and plaster. The material you choose will depend on the function of the corbel, the overall aesthetic you are trying to achieve and budget.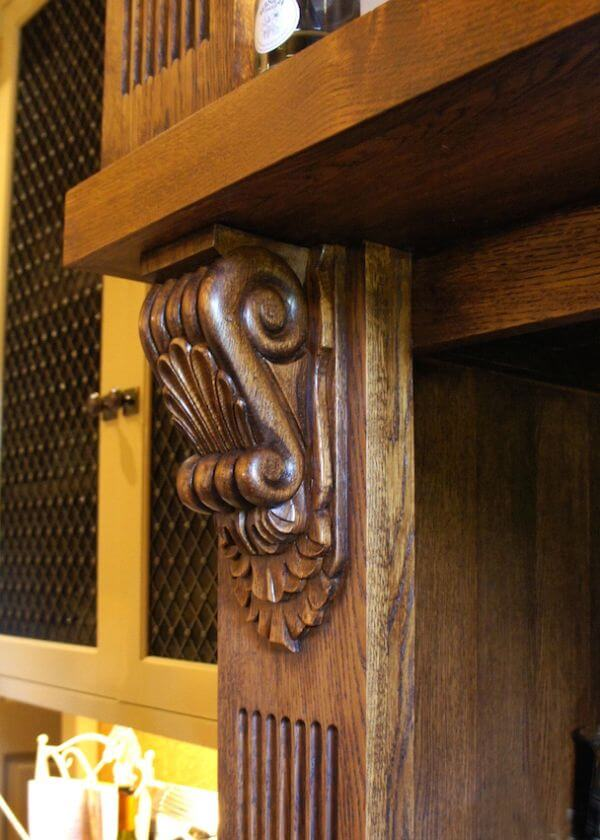 Corbel size – corbels come in different sizes, make sure to measure the area where the corbels will be installed and choose a size that will fit properly.
Corbel function and load bearing capacity – make sure to choose a corbel that is strong enough to support the load it will be bearing. Consider the weight of the architectural element it will be supporting and the size of the corbel.
Corbel Installation – consider how the corbels will be installed, whether they will be attached to a wall or a beam and make sure you have the appropriate hardware and tools for installation.
Cost – corbels can vary widely in cost, so consider your budget when making your selection.
And finally, you'll need to consider style – corbels come in a wide range of architectural styles, from traditional and ornate to modern and contemporary here are some terms that might help you when searching to match your perfect corbel with your delightful home decor:
Classical Corbels – Evoking the influences of classical decoration and architecture
French Provencal – Clean lines with a deep scroll
Acanthus Leaf – A stylised leaf motif dating from early Greek temple ornamentation
English Countrystyle – A nostalgia corbel radiating the warmth and splendour of country cottage and rural farmhouse living
Leaf and Scroll – A natural leaf motif with deep scrolls
Victorian corbels – Victorians drew many of their design concepts from their wide colonial presence, think intricately carved details that showcased the prosperity of the era
Georgian – Characterised by an understated elegance of symmetry and gracious proportions
Roll & Scroll – An upward scroll in the centre is used as a design feature to enable greater depth of the supporting scroll at the top
Shaker – This style evolved from the cultural and religious movement of Quakers. Their home furniture was based upon the guiding principles of simplicity and utility and creating furniture of minimalist design
Reeded – Reeding is a series of convex, raised mouldings in parallel
Fluted Corbels – Fluting is where parallel moulded lines are scooped out to be concave
Vineleaf – Ideal for kitchen corbel decor and wine racks. Vine leaf corbels are decorated with grape and vine designs
Rustic – Rustic corbels are significant of a simple rural lifestyle and have a variety of applications, often referred to as farmhouse corbels
Celtic – The design of Celtic corbels is closely related to the Celtic knot, an intricate weave of one continuous line
Art Deco –  This popular style is based on the concept of balance within a geometric and anti-traditional design. The highly stylised Art Deco movement came to the fore in the early 20th Century
Console Corbels – A high, serpentine shaped corbel suitable for support of a console table or console shelf, often situated in an entrance hall
Considering these many factors will aid you in choosing the right corbels to enhance the design of your project and provide the necessary structural support. It's also advisable to consult with an architect or a building professional for guidance on selecting well for your specific project needs.
How to attach or fix corbels
Corbels by definition will be fixed to a vertical surface:
Masonry corbels need to be physically integrated or anchored into the structure of the wall with mortar. Additional metal fixings can be let into the wall to provide further support
Cast iron corbels and wrought iron brackets will require to be welded in position onto a metal structure
Pressed Metal Brackets need to be screwed in place through the pre drilled holes provided. Make sure the screw has a suitable projection to provide the necessary support
Plaster corbels can be fixed with plaster or glue then drilled and screwed into place
Resin composite, Styrofoam or fibreglass corbels can be fixed with adhesive or epoxy resin and held in place with a nail or screws.
Wooden corbels can be fixed in a number of ways depending on the circumstances:
If you have access to the back of the structure, screw directly from the support surface into the back of the corbel
If you have access to the corbel from above, use a 90 degree metal right angle bracket rebated and screwed to the top of the corbel
The corbel can be fixed with a screw from the front. The type of fitting you need will depend on the nature of the substrate you are fixing onto
Use high quality wood glue or adhesive. Read the product instructions and apply as instructed. Do one corbel at a time so that the glue does not go off
Wood corbels can also be skew nailed from the side into a wood frame underneath. That means nail it at an angle from each side. For this method it is best to pre-drill pilot holes for the fixing first. This technique can be used in conjunction with adhesive
If fixing onto plaster or render finish, you can use mirror plates at the sides. After fixing, cover the plate over with some plaster and/ or thick paint, to hide the fixing in the wall.
The corbel can be pre-mounted on a wooden base plate that is slightly larger than the corbel itself. Then fix the base plate to your intended vertical surface
The Wild Goose Carvings brand has been established for over 35 years and is a benchmark of quality in the supply of carved wooden corbels and onlays.
Browse the full range of original hand carvings and corbels.
We provide a wide range of corbels as well as complimentary applique carvings, friezes and mouldings featuring original designs, by artist Patrick Orme-Lynch, in a traditional style. Suitable for interior décor, architecture and furniture, our carvings recreate the lost tradition of hand carving in wood and are immediately available to our customers from stock.